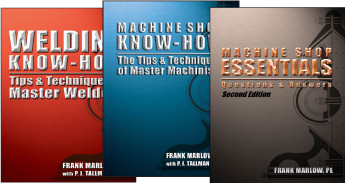 3-Book Bundle
Sale Price:
$79.99
$144.85
Buy all 3 of the Metal Arts Press books and save over 40%!
Machine Shop Know-How
If you've ever wished you could take all of the knowledge of a master machinist and pour it directly into your brain, here is your chance. Machine Shop Know-How proves that there are no secrets in the machine shop, just information that is rarely documented—until now. This book focuses on manually controlled machine tools, but moves beyond the basics to present the problem-solving insights, shop shortcuts, and clever tips and tricks that normally take years of first-hand shop experience to learn.
Machine Shop Essentials
Machine tools - lathes, mills and drill presses. The book explains how they operate, how to set up work, and how to safely use these tools. There is extensive material on workholding in the lathe—collets, chucks, mandrels, faceplates and centers. Milling machine tooling is covered in detail. It is not about production methods or NC machine tools.
Welding Know-How
Welding Know-How is packed with years of welding knowledge and insights you won't find anywhere else. With easy-to-understand text and detailed line drawings, the book explains the major welding processes: shielded metal arc (SMAW or stick), wire feed (MIG) and gas tungsten arc (TIG). Welding Know-How also covers the major cutting processes: oxyacetylene, plasma arc, water jet, air-carbon arc, oxygen lance, burning bar and SMAW cutting, and has chapters on brazing and soldering, bending and straightening, pipe and tubing and an extensive section on welding safety.
With this book you'll finally gain control of your stick, TIG or wire-feed outfit and learn how to get your "buzz box" to make more than just noise. After reading Welding Know-How, you'll see that there are no secrets in the welding shop, just knowledge that has never been written down—until now.