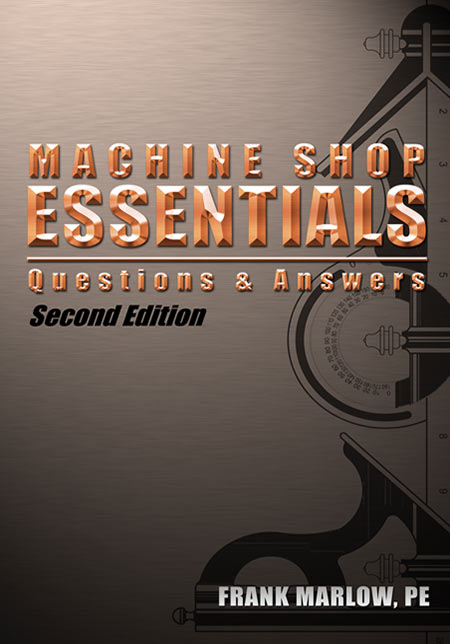 Machine Shop Essentials
Trade Paperback
528 pages
Index & Glossary
Second Edition, © May 2011
Level: Basic to Intermediate
Sale Price:
$29.95
$44.95
Dimensions: 7 × 10 × 1¼ inches
Weight: 2.8 pounds
Illustrations: 500 line drawings by Pamela J. Tallman
Publisher: Metal Arts Press
ISBN-13: 978-0-9759963-3-1
What's this book about?
Using machine tools—lathes, mills and drill presses. The book explains how they operate, how to set up work, and how to safely use these tools. There is extensive material on workholding in the lathe—collets, chucks, mandrels, faceplates and centers. Milling machine tooling is covered in detail. It is not about production methods or NC machine tools.
Who was this book written for?
Machinists, industrial prototypers, car restorers, R&D lab technicians, instrument makers, product designers, gunsmiths, engineers, inventors, and people making one-of-a-kind repair parts. The book is perfect for beginning to intermediate skill levels.
What size machine tools are covered?
Lathes as small as Sherline and Levine and as large as Colchester. Sherline and Bridgeport-style mills are also covered.
What is the strongest feature of this book?
500 illustrations with step-by-step procedures to provide the know-how and techniques for quick, safe success with machine tools. Many methods, precautions, and corrective steps that were learned through hard experience are included.
What's new in the Second Edition of Machine Shop Essentials?
Two master machinists have reviewed Machine Shop Essentials line-by-line and suggested dozens of revisions and additions. Hundreds of drawings have been upgraded, several dozen new ones have been added. New material on recovering from snapped center drill tips, making twist drill extensions with a file, adjusting flycutters, milling machine boring, quick-change tool holders, adjustable reamers and repair dies vs. threading dies. Almost every procedure has new, additional suggestions for avoiding machining problems and getting out of them when you do not. There are new tables for slip and press fits, lathe speed cutter selection and drill sizing.
Table of contents
Acknowledgements
Appendix I: Sharpening Steel Lathe Tools
Appendix II: Surface Speed Table & Cutting Tool Selector Chart
Appendix III: Decimal Equivalents of Fractional, Letter & Metric Drills