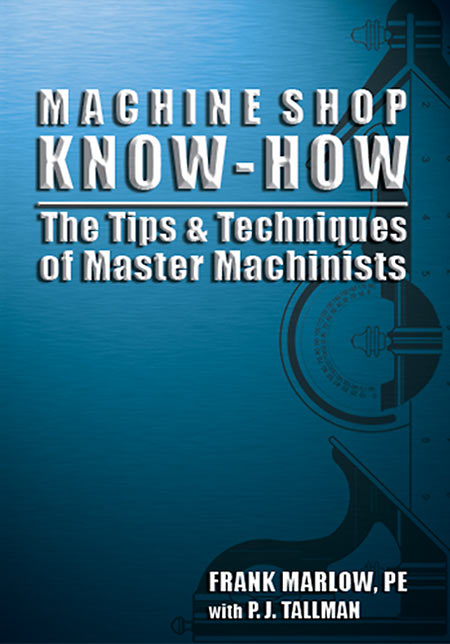 Machine Shop Know-How
Trade Paperback
528 pages
Indexed
First Edition, © March 2010
Level: Intermediate to Advanced
Sale Price:
$29.95
$49.95
Dimensions: 7 × 10 × 1¼ inches
Weight: 2.8 pounds
Illustrations: 600 line drawings by Pamela J. Tallman
Publisher: Metal Arts Press
ISBN-13: 978-0-9759963-4-8
What's this book about?
If you've ever wished you could take all of the knowledge of a master machinist and pour it directly into your brain, here is your chance. Machine Shop Know-How proves that there are no secrets in the machine shop, just information that is rarely documented—until now. This book focuses on manually controlled machine tools, but moves beyond the basics to present the problem-solving insights, shop shortcuts, and clever tips and tricks that normally take years of first-hand shop experience to learn.
Who is this book for?
This book is for home shop machinists, industrial model and scientific instrument makers, R&D lab technicians, model engineers, prototype designers, custom motorcycle and car builders, gunsmiths, teachers, students, and anyone who has a fundamental knowledge of machine shop practice and wants to advance to the next level. No matter your experience, Machine Shop Know-How will improve your machining skills. It's the next best thing to apprenticing with a master.
How is this book different from Machine Shop Essentials?
This book begins where Machine Shop Essentials: Q&A left off. With an easy-to-understand chapter format, Machine Shop Know-How has just a little overlap with Machine Shop Essentials to get everyone on the same page, so to speak, but over 90% of the book is new material.
What's in this book?
Machine Shop Know-How includes:
Small lathe operations featuring Sherline and Levin and large lathe operations featuring Kent and Colchester
Operating your Kent, Sherline and Bridgeport-style mills
Techniques to truly master your lathe, milling machine, bandsaws and grinders
Storage ideas to quickly organize an efficient, clutter-free shop
Methods to fabricate ingenious shop-made tools that will improve your work
Ways to modify or upgrade existing tools so they really work
Plans for clever and useful jigs and fixtures to make your projects turn out right
Hundreds of ingenious and uncommon solutions to common shop problems devised by top industry professionals
Dozens of projects with detailed step-by-step instructions designed to improve your skills so you too can become a problem solver
Nearly 600 line drawings designed specifically for the book—No copies of copies of old Army manuals or blurry manufacturer's drawings from the '40s. No other machine shop book on the market has such extensive and detailed drawings. None.
Table of contents
Title Page
Copyright Page
Contents
Acknowledgements
Credits