Chapter 2
Safety
Experience is the name everyone gives to their mistakes.
—Oscar Wilde
Section I – The Welding Work Environment
The Welding Work Area
Like playing with fire, welding is inherently dangerous. The goal of this chapter is not to scare you with the list of possible hazards: the goal is to equip you with the knowledge to avoid these hazards. To begin, the right work environment is critical for welding safely.
A good welding area should:
Be clean and comfortable to work in.
Allow you to position the work to avoid welding on the floor unless absolutely necessary. You will not do you best work there.
Be free of drafts on the work from fans, wind, windows, and doors, yet still have adequate ventilation to reduce the inhalation of welding fumes.
Provide bright light: welding in sunlight is better than in dim light because the non-glowing parts of the weld show up better.
F because better welds will result at these temperatures than welds made in cold temperatures. However, acceptable welds can be made at ambient temperatures in the 40–50ºF range except where the weld specifications call for preheating.
Have tools positioned within easy reach of the welder.
Be free of combustibles, puddles and tripping hazards.
Be outfitted with all the necessary personal safety equipment for the processes to be used.
Section II – Eye, Face & Skin Protection
Welding Hazards
Welding and cutting operations produce many hazards. These include both ultraviolet, infrared and visible radiation, flying metal particles, sparks, chipping slag, and grinding particles. Because these hazards are ever present in the welding environment, proper selection and consistent use of appropriate eye, face and skin protection is vital.
Prescription Glasses & Safety Glasses
If you're now wearing bifocal lenses, you should know that Varilux-type progressive lenses are a big improvement over traditional bifocals. When the wearer looks straight ahead, these lenses focus at long distances, and when the wearer looks down at an angle, the lenses focus at a normal distance for reading. This arrangement works well for most situations, but for some shop projects—welding and layout work are good examples—the wearer needs to see close work at a straight-ahead angle. In this case, the lenses are set for a long-distance focus and the work is blurry. For most people the solution is to purchase a pair of inexpensive, drug-store reading glasses for close work. These readers are adequate for some close-up shop work if worn under safety goggles, but prescription safety glasses made specifically for the welding work environment are the proper solution. Remember: Safety glasses with side shields should be worn at all times in the welding shop.
Welding Helmets
Welding helmets protect the eyes and face from radiation and mechanical injury. Helmets are made of fiberboard or fiberglass and have a tinted plate or window for viewing. These tinted glass plates are available in a series of shades or densities so visibility and protection at a range of arc currents, or light levels, is possible. In general, the higher the welding current, the higher the radiation level, and the higher the shade of the protective lens required. Table 2-1 shows the recommended shade numbers for common processes and current levels. Today, in addition to the traditional welding helmets with glass plates, welding helmets with electronic faceplates, sometimes called auto-darkening filters (ADFs), are very popular because they have become inexpensive and offer these advantages:
The welder does not need to raise and lower his helmet when performing a series of welds. He can always see where he is with the helmet down.
The beginner does not have to master holding his electrode steady when he drops his helmet. This permits beginners to perform better welds earlier in their training.
Electronic faceplates offer continuous eye protection from infrared radiation coming off red-hot metal even when they are not in the darkened mode. Electronic faceplates are just easier on the eyes.
Operation

Steel Plate Thickness

(inches)

Welding Current (A)

Lowest Shade Number

Comfort Shade Number

Arc Welding

(Shielded Metal Arc Welding)

—

>60

60–160

160–250

250–550

7

7

10

11

–

10

12

14

Wire Feed Welding

(Gas Metal Arc Welding &

Flux Core Arc Welding)

—

>60

60–160

160–250

250–500

7

10

10

10

–

11

12

14

TIG

(Gas Tungsten Arc Welding)

—

>50

50–150

150–200

8

8

10

10

12

14

Oxyfuel Gas Welding (Steel)

> 1/8

1/8 – 1/2

< 1/2

—

—

—

—

—

—

4, 5

5, 6

6, 8

Plasma Arc Cutting

—

>300

300–400

400–800

8

9

10

9

12

14

Air-Carbon Arc Cutting

—

>500

500–1000

10

11

12

14

Oxyfuel Gas Cutting (Steel)

> 1

1–6

< 6

—

—

—

—

—

—

3, 4

4, 5

5, 6

Torch Brazing

—

—

 

3, 4

Torch Soldering

—

—

 

2
Table 2-1. Suggested viewing plate shades. To select the best shade for the application, start with the highest shade number and, if it is difficult to see the operation, reduce the shade number until the operation is sufficiently visible. Do not go below the lowest given shade number. Lighter shades may be used where the arc is hidden by the work.
Tip: Choose a welding helmet with an adjustment knob to control the size of its headband, not the notch-in-hole designs that have fixed diameter increments. These rarely fit properly and are either too tight or too loose.
Goggles & Face Shields
Tinted goggles are suitable for many oxyfuel gas welding and brazing operations which require a lower level of skin protection. Tinted goggles may be appropriate for some oxyfuel cutting work as well.
Goggles and face shields are essential during grinding operations that produce sparks and abrasive particles, and when wire brushing, which can release wheel wires that fly at high speeds.
Welding Gloves
Welding gloves are the first line of defense against electric shock, flames, hot parts, sharp or flying metal and arc rays. Different types of gloves are required for different processes and hazards. The thin and flexible deerskin or goatskin gloves which are suitable for low-current GTAW precision welding, would offer insufficient protection for air-carbon cutting where insulated, tough and durable cowhide gloves are essential.
Protective Clothing
Long sleeve cotton or wool shirts are suitable for many processes. The weave of the fabric must be dense enough to stop arc radiation from reaching the skin. Be sure to button the top shirt button to protect the upper chest and neck area from arc rays. Synthetic fabrics tend to melt when burned and must be avoided. For overhead work, leather shirts, commonly called leathers, are essential for protection against falling sparks and molten metal. Cloth caps are helpful to protect the head from being burned by direct, indirect or reflected light. Wearing a headband under your welding helmet helps prevent sweat from getting into your eyes. See Figure 2-1.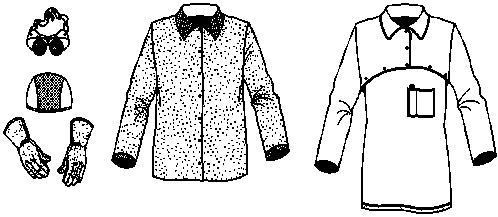 Arc Radiation
There are three types of arc radiation: infrared, or heat, visible light, and ultraviolet light. All of these rays are capable of both temporary and permanent eye and skin damage.
Ultraviolet, in addition to creating an immediate painful sunburn, is carcinogenic and, over time, a real life-threatening danger. Although arc brightness or luminance increases slowly with increasing arc current, ultraviolet radiation increases as the square of the arc current, meaning twice the current produces four times the radiation. Since UV is invisible, large increases are not detectible visually and may cause major injury before these high levels are detected. Welding processes that use argon shielding gas are usually intense UV sources.
In addition to direct exposure to arc rays, reflected radiation can cause injury to other workers and to the public. Personnel in the welding area must be protected from the welding arc and sparks by protective screens.