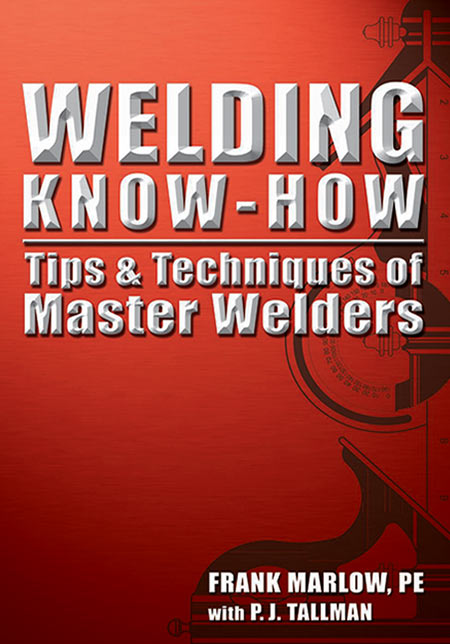 Welding Know-How
Trade Paperback
552 pages
Indexed
First Edition, © March 2012
Level: Basic to Intermediate
Sale Price:
$29.95
$49.95
Dimensions: 7 × 10 × 1¼ inches
Weight: 2.8 pounds
Illustrations: 600 line drawings by Pamela J. Tallman
Publisher: Metal Arts Press
ISBN-13: 978-0-9759963-6-2
What's this book about?
Welding Know-How is packed with years of welding knowledge and insights you won't find anywhere else. With easy-to-understand text and detailed line drawings, the book explains the major welding processes: shielded metal arc (SMAW or stick), wire feed (MIG) and gas tungsten arc (TIG). Welding Know-How also covers the major cutting processes: oxyacetylene, plasma arc, water jet, air-carbon arc, oxygen lance, burning bar and SMAW cutting, and has chapters on brazing and soldering, bending and straightening, pipe and tubing and an extensive section on welding safety.
With this book you'll finally gain control of your stick, TIG or wire-feed outfit and learn how to get your "buzz box" to make more than just noise. After reading Welding Know-How, you'll see that there are no secrets in the welding shop, just knowledge that has never been written down—until now.
Who is this book for?
This book is for people who want to learn how to weld so they can make and fix things themselves. No more waiting for a repairman to show up. This book is for home shop machinists, maintenance technicians, mechanics, farmers, students, inventors, prototype makers and anyone who wants to become more self-sufficient.
What's in this book?
Welding Know-How features:
Over 600 clear and detailed line drawings
Step-by-step instructions for dozens of welding projects
Hundreds of solutions devised by master welders
Silver and bronze brazing techniques
Plans for jigs and to make projects turn out right
Ideas to modify existing tools so they really work
Bending and straightening methods
Procedures to get your MIG, TIG or SMAW systems up and running
Techniques for repairing copper pipes and buried copper tubing
Tips for controlling distortion
Answers to your toughest welding questions
Techniques to use your welding equipment that you've never before seen